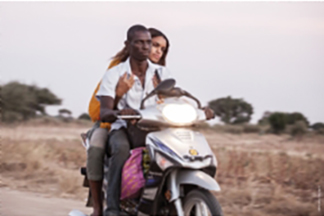 AWC Foundation's Thursdays at the Theatre continues
For as little as $2.50 with a student ID, or $5 without one, you can watch award-winning independent films at Thursday at the Theatre in Yuma's Historic Art Theatre on Main Street. The series, now in its 11th year, is brought to you by the Arizona Western College Foundation and sponsored by KAWC Colorado River Public Media, AWC-NAU Academic Library and the Yuma Art Center
The evening event begins at 7 p.m. on the first Thursday of each month -- with the exception of April, when it falls in the second week. The doors open at 6:30 pm so that viewers will have time to purchase $2 bags of popcorn and $2 sodas and find a good seat. Before the feature film, AWC Professor Michael Miller gives an introduction and any disclaimers, and an award-winning short film is shown.
After both films, interested viewers are welcome to stay and join Professor Miller's film class to discuss and critique the films.
January 15, 2015 - Grigris
France/Chad | 2013 | Drama | French & Arabic w/ English subtitles | 101 minutes
Synopsis Despite a bum leg, 25-year-old Grigris has hopes of becoming a professional dancer, making some extra cash putting his killer moves to good use on the dance floor of his local club every weekend. His dreams are tested when his step-father falls critically ill and he's forced to risk his future by smuggling oil to pay the hospital bills. When he befriends Mimi, a beautiful but damaged prostitute, the two will try to start a new life together. But as bad decisions begin to catch up with them, they'll have to run for their lives. Their pasts, however, are never far behind, bringing them to a perilous climax.
February 5 -- Ilo Ilo
Singapore | 2013 | Drama | Mandarin, Tagalong, English w/ English subtitles | 99 minutes
"Ö.One of those rare films that manages to capture an entire period within an intimate slice of life." -- Ang Lee, Oscar-winning director
Synopsis: Set in Singapore during the 1997 Asian financial crisis, Ilo Ilo chronicles the day-to-day drama of the Lim family -- troublesome grade-schooler Jiale and his overstressed parents, Heck and Leng. Comfortably middleclass and with another baby on the way, they hire Teresa, a Filipino immigrant, as a live-in maid and nanny. An outsider in both the family and Singapore itself, Teresa initially struggles to manage Jiale's antics and find her footing in her new community. The two eventually form a unique bond; but just as Teresa becomes an unspoken part of the family, unforeseen circumstances in an uncertain economy will challenge the new normal yet again.
March 5 -- For A Woman
France | 2013 | Drama | French w/ English subtitles | 110 minutes
"Öan evocative, witty portrait of love, longing, ideology and desolation in post-World War II France." -- Marci Schmitt, Minneapolis Star Tribune
Synopsis: Anne has a very active imagination, only natural for a writer. But in her mid-thirties, she still knows practically nothing of her own family's past. After her mother's death, Anne discovers old photos and letters that convince her to take a closer look at the life of her parents, Michael and LÈna. The young couple met in the concentration camps during World War II, later moving to France to start their new life together. Soon, Anne's research into their Jewish history and their ties to Lyon's communist party reveals the existence of a mysterious uncle, Jean, whom everyone seems intent on forgetting entirely. As she gradually closes in on the discovery she didn't know she was looking for, her father grows ever more ill, and may take the secret that kept them apart for so long to his grave. In a journey that stretches from postwar France to the 1980s, Anne's destiny intertwines with her father's past until they form a single, unforgettable story.
April 9 -- Salvo
Italy | 2013 | Crime-Thriller | Italian w/ English subtitles | 104 minutes
"A fascinating Italian film noir, immaculately made!" -- Cineuropa
Synopsis: A hitman for the Sicilian Mafia, Salvo is solitary, cold and ruthless. When he sneaks into a house on an assignment, he discovers Rita, an innocent young blind girl who must stand by powerlessly while her brother is assassinated. What follows is an intense exchange fueled by adrenaline and fear between the killer and his witness, one that changes their two lives in an instant. The darkness is lifted from Rita's eyes just as Salvo decides, against his murderous instincts, to spare her life. From then on, both haunted by their brief encounter, these two damaged souls will attempt to navigate their dangerous next steps side by side.
May 7 -- To Kill A Man
Chile | 2014 | Crime-Thriller | Spanish w/ English subtitles | 81 minutes
"Impressive! A slow-burning revenge thriller...artfully plotted." -- Guy Lodge, Variety
Synopsis: Hardworking family man Jorge is just barely making ends meet. When he gets mugged by Kalule, a neighborhood delinquent, Jorge's son decides to confront Kalule, only to get himself shot in the process. Sentenced to a scant two years in prison for the offense, Kalule, released and now intent on revenge, goes on the warpath, terrorizing Jorge's family. With his wife, son and daughter at the mercy of a thug, Jorge has no choice but to take justice into his own hands, and live with the emotional and psychological consequences.