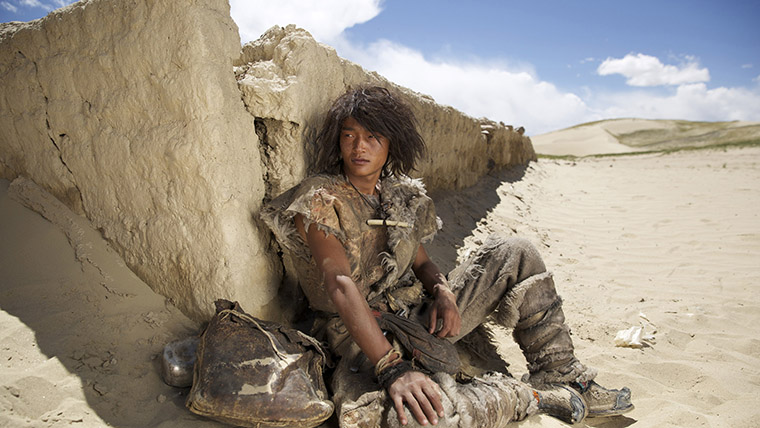 AWC foreign-independent film series continues
For as little as $2.50 with a student ID, or $5 without one, you can watch award-winning independent films at Thursday at the Theatre in Yuma's Historic Art Theatre on Main Street. The series, now in its 13th year, is brought to you by the Arizona Western College Foundation and sponsored by KAWC Colorado River Public Media, AWC-NAU Academic Library and the Yuma Art Center
The evening event begins at 7 p.m. on the first Thursday of each month – with the exception of August, when it falls in the third week. The doors open at 6:30 p.m. so that viewers will have time to purchase $2 bags of popcorn and $2 sodas and find a good seat. Before the feature film, AWC Professor Michael Miller gives an introduction and any disclaimers, and an award-winning short film is shown.
After both films, interested viewers are welcome to stay and join Professor Miller's film class to discuss and critique the films.
AWC Foundation Thursdays at the Theatre: August – Dec 2017
Aug. 24 – Soul on a String
China / 2016 / Drama / Tibetan with English subtitles / 142 min
"A slow-simmering, Western-style action drama of blood feud, misfired machismo and spiritual quest spread across Tibet's rolling steppes and scorching deserts..."
– Maggie Lee, Variety
Synopsis: After discovering a sacred stone in the mouth of a deer, Taibei, a solitary Tibetan cowboy, embarks on a mission – to bring it back to the holy Mountain of Buddha's Handprint. Pursued by black market traders who seek the priceless artifact for themselves, as well as two brothers seeking vengeance for the long-ago death of their father, Taibei's journey will be a long and difficult one – even before it is thrown off course by strange, mystical events.
Sept. 7 – Glory
Bulgaria / 2016 / Drama /Bulgarian with English subtitles / 101 min
"Shot with flexible naturalism . . . the film quietly builds to a feeling of inexorable disaster, guided by terrific performances as well as spot-on editing." – Jay Weissberg, Variety
Synopsis: Tsanko Petrov, a railroad worker, finds millions of leva on the train tracks. He decides to turn the money over to the police, for which the state rewards him with a new wristwatch that soon stops working. Meanwhile, Julia Staikova, head of the PR department of the Ministry of Transport, loses Petrov's old watch, a family relic. Here starts his desperate struggle to recover both his old watch and his dignity.
Oct. 5 – After the Storm
Japan / 2016 / Drama /Japanese with English subtitles / 117 min
"**** Even long-standing fans of the Japanese filmmaker might be taken aback by the supreme subtlety of his latest, achingly beautiful ode to the quiet complexities of family life." – Robbie Collin, The Daily Telegraph
Synopsis: Dwelling on his past glory as a prize-winning author, Ryota wastes the money he makes as a private detective on gambling and can barely pay child support. After the death of his father, his aging mother and beautiful ex-wife seem to be moving on with their lives. Renewing contact with his initially distrusting family, Ryota struggles to take back control of his existence and to find a lasting place in the life of his young son – until a stormy summer night offers them a chance to truly bond again.
Nov. 2 – Afterimage
Poland / 2016 / Drama / Polish with English subtitles / 98 min
"Built on a classical narrative structure, Afterimage really puts the emphasis on its remarkable lead actor, Boguslaw Linda, a legendary performer in Poland, who has, in the past, starred in films by the country's greatest directors." – Dorota Hartwich, Cineuropa
Synopsis: The great Polish director Andrzej Wajda returns with this passionate biopic about avant-garde artist Wladyslaw Strzeminski (brilliantly played by Polish superstar Boguslaw Linda), who battled Stalinist orthodoxy and his own physical impairments to advance his progressive ideas about art.
Dec. 7 – The Teacher
Slovakia & Czech Republic / 2016/ Comedy-Drama / Slovak with English subtitles / 103 min
"**** Hrebejk and Jarchovsy deftly employ humour as a way of mocking and undercutting their anti-heroine while preventing their overall point about power and corruption from becoming preachy." – Amber Wilkinson, Eye for Film
Synopsis: In a middle school classroom in Bratislava in 1983, a new teacher, Maria Drazdechova, asks each student to stand up, introduce themselves and tell her what their parents do for a living. It slowly becomes clear that perhaps the pupils' grades are related to how willing their guardians are open to helping her out with her errands, her housecleaning and other random services. After one of the students attempts suicide, however, the director of the school has no choice but to call for an emergency parents' meeting to remove the teacher; but because Ms. Drazdechova is also a high-ranking official of the Communist Party, parents are hesitant to sign a petition to transfer her out. In a classroom behind the Iron Curtain, the future of all the families are at stake, as the film examines how each family must wrestle with standing up for what they believe in or silently keep the status quo.