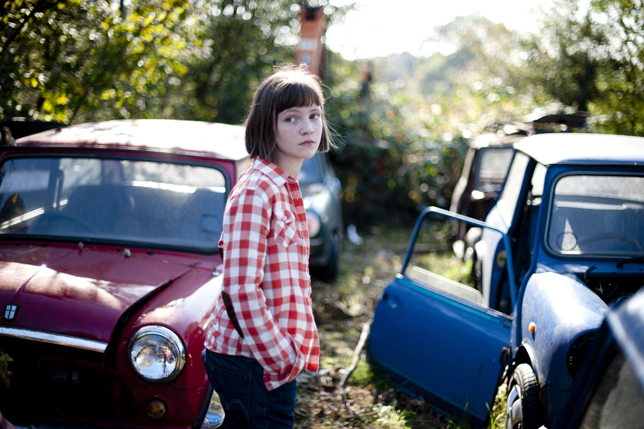 For as little as $2.50 with a student ID, or $5 without one, you can watch award-winning independent films at Thursday at the Theatre, sponsored by the AWC Foundation, in Yuma's Historic Art Theatre on Main Street.
The evening event begins at 7 p.m. The doors open at 6:30 pm so that film viewers will have time to purchase $2 bags of popcorn, $2 sodas and find a good seat. Before the feature film, AWC Professor Michael Miller gives an introduction and any disclaimers, and an award-winning short film is shown.
After both films, interested viewers are welcome to stay and join Professor Miller's film class to discuss and critique the films.
February 6, 2014 - Broken
United Kingdom | 2012 | Drama | English | 90 minutes
"The visually pleasing drama is graced by a lovely score from Britpop eminence Damon Albarn...and by fine performances, notably from a soulful Tim Roth and appealing young newcomer Eloise Laurence." - David Rooney, The Hollywood Reporter
Synopsis The summer holidays have just begun and 11 year-old Skunk's afternoons are full of day dreams and curious wanderings around her neighborhood - with the exception that she must regularly give herself injections to combat her type 1 diabetes. When, one day, Skunk (Eloise Laurence) discovers her bitter and angry older neighbor, Mr. Oswald (Rory Kinnear), savagely beating Rick, a psychologically-troubled boy from the neighborhood whom Mr. Oswald's daughter has callously and fictitiously accused of rape, Skunk's innocence begins to vanish. Trying to find solace with her loving nanny (Zana Marjanovic) and father (Tim Roth), with whom she is very close, Skunk is unwittingly drawn into her neighbors' unfolding melodrama involving violence, sex, and life-shattering illness. Her home, her neighborhood and her school all become treacherous environments where the happy certainties of childhood give way to a fear-filled doubt, and the promise of a complex, broken future.
March 6, 2014 - The Deflowering of Eva Van End
Netherlands | 2012 | Comedy | Dutch, English & German w/ English subtitles | 98 minutes
"Riveting! Quite an achievement!" -- Boyd Van Hoeij, Variety
Synopsis In this perfect blend of satire and sincerity, a dysfunctional family gets turned on its head when the 'perfect' exchange student moves in. Every member of the van End family is preoccupied with his or her own peculiar fixation--be it father Evert's Skype relationship with a boy in Africa (seemingly his only functional relationship), or mother Etty's relentless tirades against her dope-dealing youngest son or praises for her eldest son about to marry. Trapped in the middle is the youngest--15 year-old Eva--struggling for any attention or affection at all. When Veit, the adonis German exchange student Eva invited, moves in, the family is shocked and each family member must confront his or her own doubts, insecurities, fears and desires. During Veit's two week stay, all five family members began to reinvent themselves led by former wallflower, Eva, who begins a dramatic transformation.
April 17, 2014 - Key of Life
Japan | 2012 | Comedy | Japanese w/ English subtitles | 128 minutes
"Breezy rhythm, witty dialogue and excellent thesping chemistry...a chessboard of ingenious subplots!" -- Maggie Lee, Variety
Synopsis A case of stolen identity and one determined bride-to-be intersect in this comedic escapade from famed Japanese filmmaker Kenji Uchida. Struggling actor Sakurai is out of work, out of luck and can't even succeed at taking his own life. When a mysterious man slips and falls at the bathhouse, Sakurai switches locker keys and identities with the man, who turns out to be a hit man named Kondo. His memory lost in the fall, Kondo begins piecing 'his' life as Sakurai back together with the help of Kanae, a young woman he meets in the hospital, who is determined to find a husband. Meanwhile, Sakurai, posing as Kondo, incurs the wrath of ornery gangsters. As the truth about Kondo and Sakurai comes to light, they must scramble to resolve the chaos of this topsy turvy chain of events.
May 1, 2014 - Watchtower
Turkey, France, Germany | 2012 | Drama | Turkish w/ English subtitles | 100 minutes
"(A) lovely gem...Original, well-made and dramatically fulfilling" - Wendy Mitchell, Screendaily
Synopsis Haunted by a tragic incident, Nihat isolated himself by becoming a fire warden in a remote observation tower far out in the wilderness. Seher lives in a makeshift room at a rural bus station, and she has taken a job as a bus hostess to escape her own traumatic past. Destined to come to a crossroads, they go about their solitary lives until their fates collide. Beginning at first as muted antagonism, their relationship quickly turns into tender domesticity as they settle together at Nihat's mountain-side watchtower. Yet the weight of the past presses on the silence between them, serving as the ultimate catalyst in their impassioned relationship with each other, and with higher powers that guide their spiritual lives.
All films start at 7:00pm, located in the Historic Yuma Theatre, 254 Main Street, downtown Yuma
$5 admission ($2.50 for AWC/NAU students with ID) includes a short film, hosted discussion
Sponsored by KAWC Colorado River Public Media, AWC/NAU Academic Library, the Yuma Art Center