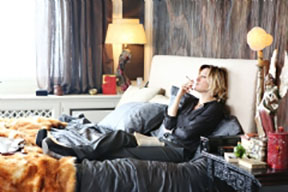 For as little as $2.50 with a student ID, or $5 without one, you can watch award-winning independent films at Thursday at the Theatre in Yuma's Historic Art Theatre on Main Street. The series, now in its 11th year, is brought to you by the Arizona Western College Foundation and sponsored by KAWC Colorado River Public Media, AWC-NAU Academic Library and the Yuma Art Center
The evening event begins at 7 p.m. on the first Thursday of each month -- with the exception of April, when it falls in the second week. The doors open at 6:30 pm so that viewers will have time to purchase $2 bags of popcorn and $2 sodas and find a good seat. Before the feature film, AWC Professor Michael Miller gives an introduction and any disclaimers, and an award-winning short film is shown.
After both films, interested viewers are welcome to stay and join Professor Miller's film class to discuss and critique the films.
AWC Foundation Thursdays at the Theatre: June 2015 -- Dec 2015
June 4, 2015 - Human Capital
Italy | 2014 | Mystery/Crime-Thriller| Italian w/ English subtitles | 110 min| Club Date: 5/1/2015
"Perfectly cast! This slick, stylish fusion of class critique and murder mystery confirms Paolo Virzi as one of Italy's more dynamic directors." -- Jay Weissberg, Variety Synopsis HUMAN CAPITAL begins at the end, as a cyclist is run off the road by a careening SUV the night before Christmas Eve. As details emerge of the events leading up to the accident, the lives of the well-to-do Bernaschi family, privileged and detached, will intertwine with the Ossolas, struggling to keep their comfortable middle-class life, in ways neither could have expected. Dino Ossola (Fabrizio Bentivoglio), in dire financial straits, anticipates the birth of twins with his second wife (Valeria Golino). Meanwhile, Dino's teenage daughter's relationship with hedge-fund manager Giovanni Bernaschi's playboy son complicates an already tricky social dance of status, money and ambition. Paolo Virzi's taut character study deconstructs the typical linear narrative, observing transformative events from each character's perspective. The result is a nuanced account of desire, greed and the value of human life in an age of rampant capitalism and financial manipulation.
[No July Film]
Aug 20, 2015 - Stations of the Cross
Germany | 2014 | Coming of Age| German w/ English subtitles | 107 min| Club Date: 6/1/2015
"Br¸ggemann offers up a darkly comic, contemporary reworking of Catholic doctrine that never shirks away from illuminating both the ridiculous and the sublime." -- Daniel Green, Cine-vue
Synopsis Told in fourteen fixed-angle, single shot, individual tableaus that parallel Christ's journey to his own crucifixion, STATIONS OF THE CROSS is both an indictment of fundamentalist faith and the articulation of an impressionable teen's struggle to find her own path in life. Though from the outside Maria lives in the modern world, her family and her heart are faithful to a Catholic radicalism that requires sacrifice and devotion at every turn. As she struggles to balance her own desires with the dictates of her family's faith, she makes ever more perilous sacrifices, attempting to please a God she worships unquestioningly in the pious hopes of curing the autistic younger brother she adores.
Sept 3, 2015 - The Lesson
Bulgaria | 2014 | Drama| Bulgarian w/ English subtitles | 105 min| Club Date: 8/1/2015
"Wickedly visceral! Tough, gripping, emotionally rewarding through trenchant plotting!" -- Aaron Hillis, Village Voice
Synopsis In a small Bulgarian town, Nade is an honest, hard-working elementary school teacher struggling to keep her life together. Her unemployed, alcoholic husband has secretly spent their mortgage payements on booze, and now the bank is threatening to auction off the house where they live with their young daughter. The agency where she translates legal documents to English for extra cash is going under and unable to pay her what she's due, and a thief in her class has stolen the last few dollars out of her purse. With few options left, she solicits help from a local loan shark who is happy to give her what she needs at a steep price. With the reposession looming, Nade will resort to measures her former self, untouched by the realities of economic desperation and moral compromise, would have found depraved, as she makes one last extreme effort to secure the money she needs.
Oct 1, 2015 - Amour Fou
Austria/Luxembourg/Germany | 2014 | Drama-Romance| German w/ English subtitles | 96 min| Club Date: 9/1/2015
"Top Ten List for 2014. One of the great films about the nature of love. Brilliantly employs lieder by Mozart and Beethoven - the most telling use of period performance since Straub-Huillet's 1968 CHRONICLE OF ANNA MAGDELENA BACH." -- James Quandt, Artforum
Synopsis Forever under-appreciated and melancholy, Heinrich is a young poet in Romantic Era Berlin who determines his best way out of despair is to end it all, and he sets about finding a woman to join him in his predetermined departure. Recently diagnosed with a terminal illness, the well-off but unremarkable Henrietta, fascinated by Heinrich's controversial "The Marquise of O," finds his offer intriguing, if a bit strange. And yet, she agrees to navigate the uncharted journey towards a suicide pact with him, at once awkward and enlightening for them both. Rather than a declaration of passionate devotion, Amour Fou - inspired by the actual suicide in 1811 of Heinrich von Kleist and Henrietta Vogel - goes against expectations to become a wry and curious denunciation of dying for love.
Nov 5, 2015 - Marie's Story
France | 2014 | Drama| French w/ English subtitles | 94 min| Club Date: 10/1/2015
"An assured, emotionally satisfying French offering. CarrÈ...plays her determined character with moving obstinacy and grace." -- Peter Debruge, Variety
Synopsis At the turn of the 19th century, a humble artisan and his wife have a daughter, Marie, who is born deaf and blind and unable to communicate with the world around her. Desperate to find a connection to their daughter and avoid sending her to an asylum, the Heurtins send fourteen-year-old Marie to the Larnay Institute in central France, where an order of Catholic nuns manage a school for deaf girls. There, the idealistic Sister Marguerite sees in Marie a unique potential, and despite her Mother Superior's skepticism, vows to bring the wild young thing out of the darkness into which she was born. Based on true events, Marie's Story recounts the courageous journey of a young nun and the lives she would change forever, confronting failures and discouragement with joyous faith and love.
Dec 3, 2015 - Secrets of War
Netherlands | 2014 | Drama| Dutch w/ English subtitles | 95 min | Club Date: 11/1/2015
Winner, Live Action feature, Chicago Int'l Children's Film Festival
Synopsis Tuur and Lambert are best friends in a Nazi-occupied Dutch village who pass their days playing soldiers and exploring local caves, mimicking a war that seems far removed from their everyday life. When Maartje joins their class, the young girl immediately stands out as different from her classmates. Yet the boys embrace their new friend, forming a unique bond based on shared adventures, secrets and mischief. Ultimately, the realities of war find even them - Lambert's father, a Nazi sympathizer, is named mayor of their town and Tuur discovers his own father and brother have joined the resistance, instantly putting the two boys at odds. Meanwhile, Maartje is hiding a secret of her own, one that not only threatens to tear the new friends apart, but could lead to devastating consequences for anyone involved in keeping it. Secrets Of War puts both the danger and the humanity of wartime friendships squarely on the shoulders of three children who must face extraordinary circumstances with a maturity far beyond their years.
All films start at 7:00pm, located in the Historic Yuma Theatre, 254 Main Street, downtown Yuma
$5 admission ($2.50 for AWC/NAU students with ID) includes a short film, hosted discussion
Brought to you by the AWC Foundation, sponsored by KAWC Colorado River Public Media, AWC/NAU Academic Library, the Yuma Art Center